Blog
Monday, 14 October 2019 00:00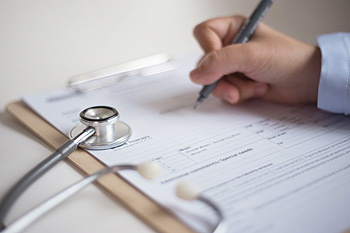 If you are experiencing any type of foot problem, you will most likely seek the counsel of a podiatrist. These types of doctors treat conditions that are related to the feet, and are referred to as doctors of podiatric medicine. People who are interested in pursuing a career in this field of medicine are required to complete four years of undergraduate work, in addition to three years of training in clinics and hospitals. There are several branches of podiatric medicine. These can include specializing in foot care for children, performing surgery to correct foot deformities, or practicing sports medicine. Many people seek the services of a podiatrist to treat common foot conditions that can include ingrown toenails, flat feet, or the painful arthritic condition known as gout. If you are interested in pursuing a career in podiatry, it is suggested that you speak to a podiatrist who can properly answer any questions you may have about the field of podiatry.
If you are dealing with pain in your feet and ankles, you may want to seek help from a podiatrist. Feel free to contact Dr. Steven Schwartz from Pennsylvania. Our doctor can provide the care you need to keep you pain-free and on your feet.
What Is a Podiatrist?
A podiatrist is a doctor of podiatric medicine who diagnoses and treats conditions of the foot, ankle, and related structures of the leg. Your podiatrist may specialize in a certain field such as sports medicine, wound care, pediatrics, and diabetic care. Podiatrists have the ability to become board certified through training, clinical experience, and then taking an exam.
What Do Podiatrists Do?
On a daily basis, a podiatrist may perform the following activities:
Diagnose foot ailments such as ulcers, tumors, fractures, etc.
Use innovative methods to treat conditions
Use corrective orthotics, casts, and strappings to correct deformities
Correct walking patterns and balance
Provide individual consultations to patients
It is very important that you take care of your feet. It's easy to take having healthy feet for granted, however foot problems tend to be among the most common health conditions. Podiatrists can help diagnose and treat a variety of feet related conditions, so it is crucial that you visit one if you need assistance.
If you have any questions please feel free to contact our offices located in Chambersburg and Waynesboro, PA. We offer the newest diagnostic and treatment technologies for all your foot and ankle needs.
Read more about What is a Podiatrist?
Monday, 07 October 2019 00:00
A common cause of poor circulation is a medical condition known as peripheral artery disease, otherwise known as PAD. If this develops, the arteries and blood vessels in the legs may become narrow, and it may contribute to decreased blood flow to the legs. Some of the symptoms linked with this ailment can include nerve and tissue damage, and patients may feel tingling and numbing sensations. Research has indicated that there are a variety of reasons why poor circulation may develop. These can include medical conditions such as diabetes, Raynaud's disease, and obesity may play a significant role in developing poor circulation. Some patients may benefit from wearing compression socks in addition to frequently elevating their feet. This may help to reduce any existing swelling. If you suffer from poor circulation, it is advised that you seek the counsel of a podiatrist who can guide you toward proper treatment options.
While poor circulation itself isn't a condition; it is a symptom of another underlying health condition you may have. If you have any concerns with poor circulation in your feet contact Dr. Steven Schwartz of Pennsylvania. Our doctor will treat your foot and ankle needs.
Poor Circulation in the Feet
Peripheral artery disease (PAD) can potentially lead to poor circulation in the lower extremities. PAD is a condition that causes the blood vessels and arteries to narrow. In a linked condition called atherosclerosis, the arteries stiffen up due to a buildup of plaque in the arteries and blood vessels. These two conditions can cause a decrease in the amount of blood that flows to your extremities, therefore resulting in pain.
Symptoms
Some of the most common symptoms of poor circulation are:
Numbness
Tingling
Throbbing or stinging pain in limbs
Pain
Muscle Cramps
Treatment for poor circulation often depends on the underlying condition that causes it. Methods for treatment may include insulin for diabetes, special exercise programs, surgery for varicose veins, or compression socks for swollen legs.
As always, see a podiatrist as he or she will assist in finding a regimen that suits you. A podiatrist can also prescribe you any needed medication.
If you have any questions, please feel free to contact our offices located in Chambersburg and Waynesboro, PA. We offer the newest diagnostic and treatment technologies for all your foot care needs.
Read more about Causes, Symptoms, and Treatment of Poor Blood Circulation in the Feet