Blog - Foot Doctor, Chambersburg and McConnellsburg, PA
Monday, 17 November 2014 00:00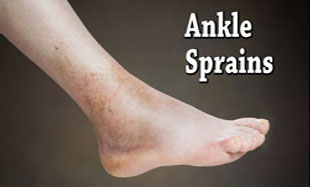 Indiana Pacers' best remaining player, David West, was escorted off the court after a sprained ankle occurred near the basket during a preseason game against the Dallas Mavericks. It appeared as though the forward's foot rolled during an attempted layup to the point that his foot came out of his shoe, keeping him on the ground until his benched teammates came out to aid him. West was seen being carried to the locker room with the help of two of his team mates. Although it is only the preseason, many of the Pacers' top players are already out on injury. If West is unable to play again for the season, things will not look so good for the rest of the team.
Some sprained ankles can be worse than others, in any case it is always best to make sure your ankle is fully healed before engaging in strenuous activity. If your ankle is sprained, consult with Dr. Steven Schwartz of Pennsylvania. Dr. Schwartz will attend to all of your foot and ankle needs and answer all of your related questions.
How Does an Ankle Sprain Happen?

This type of injury takes place when the ligaments are torn or stretched beyond their limits. There are multiple ways that the ankle can become injured; however, even the simple act of walking may cause a sprain. If footing is lost or you are walking on uneven terrain, ankle damage may occur.

What are the Symptoms?
Mild to moderate bruising
Limited mobility
Swelling
Discoloration of the skin, depending on severity
Is there a Way to Care for my Ankle at Home?

Self-care for ankle sprains includes propping the ankle up and keeping it elevated, applying ice packs as needed, and remaining off your feet. Some may also find that wrapping the ankle with an ACE bandage and taking over-the-counter pain relievers are helpful. One of the most important things is to avoid further stress to the affected area.

Preventing a Sprain
Wearing appropriate shoes for the occasion
Stretching before exercises and sports
Knowing your limits can aid in prevention
Treatment of a Sprain

Treatment of a sprain depends on the severity. Many times, people are told to rest and remain off their feet completely, while others are given an air cast, which will allow you to walk while stabilizing the ankle.

If you have any questions, please feel free to contact one of our offices for more information. We offer the newest diagnostic and treatment technologies for all your foot care needs.

Read more about Ankle Sprains
Tuesday, 11 November 2014 00:00
Winter is a season in which the feet are often neglected, as the feet are usually kept wrapped up in shoes. This makes winter foot care especially important. Keeping the feet healthy during the colder months is easy, however, with a few simple tips. Moisturizing the feet is one of the most important measures one can take to keep the feet looking fresh and healthy. Wearing thick shoes and thick socks during the winter is important to keep them protected from harsh temperatures, and can go a long way towards foot health. Pedicures and hot water treatments can help relax tense and weathered feet, while drinking plenty of water will help keep the skin hydrated.

Regardless of season or weather, everyday foot care should be practiced year round. For more information about everyday foot care, consult with podiatrist Dr. Steven Schwartz. Dr. Schwartz will provide you with the foot- and ankle information you seek.

Every Day Foot Care

Often, people take care of their bodies, face and hair more so than they do for their feet. But the feet are a very important aspect of our bodies, and one that we should pay more attention to. After all, without our feet, we would not be able to perform most daily tasks. It is best to check your feet regularly to make sure there are no new bruises or cuts that you may not have noticed before, for example.
For dry feet, moisturizer can easily be a remedy and can be applied as often as necessary to the affected areas. Wearing shoes that fit well can also help you maintain good foot health, as well as making it easier to walk and do daily activities without the stress or pain of ill-fitting shoes, high heels, or even flip flops.

Also, wearing clean socks with closed shoes is important to ensure that sweat and bacteria do not accumulate within the shoe. Clean socks help to prevent athlete's foot, fungi problems, bad odors, and can absorb sweat.

If you have any questions, please feel free to contact our office for more information. We offer the newest diagnostic and treatment technologies for all your foot and ankle needs.

Read more about Everyday Foot Care