Surgery After Recurrent Ankle Sprains
Tuesday, 07 November 2023 00:00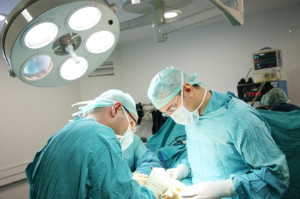 People who often twist their ankles may need a type of surgery called ankle lateral ligament reconstruction. This surgery is recommended for patients who experience recurrent ankle sprains, despite repeated conservative treatment. The aim of this surgery is to prevent the development of ankle arthritis and to reduce the risk of developing ankle joint damage, as each episode of ankle sprain may lead to ankle joint injury. In this surgery, a small cut is made near the fibula bone. The stretched out ligaments are made shorter and attached back to the fibula using two tiny bone hooks. These hooks stay in place unless they bother the patient. Following surgery, a bulky dressing is applied and should remain in place for two weeks as this provides cushioning against the pressure of the brace on the wound. During this time, it is important that the dressing is kept dry. The ankle stirrup brace needs to be worn whenever walking but may be taken off when the patient is sitting or in bed. If you have sustained repetitive ankle sprains, it is suggested that you make an appointment with a podiatrist to speak to discuss whether surgery is right for you.
Foot surgery is sometimes necessary to treat a foot ailment. To learn more, contact Dr. Steven Schwartz of Pennsylvania. Our doctor will assist you with all of your foot and ankle needs.
When Is Surgery Necessary?
Foot and ankle surgery is generally reserved for cases in which less invasive, conservative procedures have failed to alleviate the problem. Some of the cases in which surgery may be necessary include:
Removing foot deformities like bunions and bone spurs
Severe arthritis that has caused bone issues
Cosmetic reconstruction
What Types of Surgery Are There?
The type of surgery you receive will depend on the nature of the problem you have. Some of the possible surgeries include:
Bunionectomy for painful bunions
Surgical fusion for realignment of bones
Neuropathy decompression surgery to treat nerve damage
Benefits of Surgery
Although surgery is usually a last resort, it can provide more complete pain relief compared to non-surgical methods and may allow you to finally resume full activity.
Surgical techniques have also become increasingly sophisticated. Techniques like endoscopic surgery allow for smaller incisions and faster recovery times.
If you have any questions please feel free to contact our offices located in Chambersburg, and Mcconnellsburg, PA . We offer the newest diagnostic and treatment technologies for all your foot and ankle needs.
Read more about Foot Surgery