Suggested Footwear Options for Diabetics
Tuesday, 17 October 2023 00:00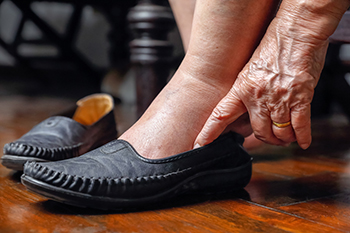 Diabetic foot complications can be debilitating, but choosing the appropriate footwear can help to manage the symptoms. Diabetic shoes are specially designed with extra depth and a roomy toe box to accommodate custom orthotics or insoles. These shoes are typically made from soft, breathable materials to minimize friction and pressure points, as well as reduce the risk of blisters, calluses, and ulcers. Diabetic shoes often feature seamless interiors and come with supportive arches and cushioned insoles for added comfort. Custom orthotics, prescribed by a podiatrist, are designed to provide personalized support for your unique foot structure and gait. These can be placed inside your regular shoes or diabetic shoes, offering stability, shock absorption, and pressure relief where needed. Extra-wide shoes are a good choice, as they offer ample room for the feet without causing pressure or constriction. Shoes with adjustable closures, such as Velcro straps or laces, can provide a secure fit without excessive tightness. Many people choose to wear diabetic socks, which are generally made from moisture-wicking materials to keep your feet dry and comfortable. They typically have seamless construction to minimize friction and reduce the risk of blisters and ulcers. If you have foot conditions caused by diabetes, it is suggested that you are under the care of a podiatrist who can monitor and manage any problems that may occur.
Diabetic foot care is important in preventing foot ailments such as ulcers. If you are suffering from diabetes or have any other concerns about your feet, contact Dr. Steven Schwartz from Pennsylvania. Our doctor can provide the care you need to keep you pain-free and on your feet.
Diabetic Foot Care
Diabetes affects millions of people every year. The condition can damage blood vessels in many parts of the body, especially the feet. Because of this, taking care of your feet is essential if you have diabetes, and having a podiatrist help monitor your foot health is highly recommended.
The Importance of Caring for Your Feet
Routinely inspect your feet for bruises or sores.
Wear socks that fit your feet comfortably.
Wear comfortable shoes that provide adequate support.
Patients with diabetes should have their doctor monitor their blood levels, as blood sugar levels play such a huge role in diabetic care. Monitoring these levels on a regular basis is highly advised.
It is always best to inform your healthcare professional of any concerns you may have regarding your feet, especially for diabetic patients. Early treatment and routine foot examinations are keys to maintaining proper health, especially because severe complications can arise if proper treatment is not applied.
If you have any questions please feel free to contact our offices located in Chambersburg, and Mcconnellsburg, PA . We offer the newest diagnostic and treatment technologies for all your foot and ankle needs.
Read more about Diabetic Foot Care