Risk Factors and Symptoms of Ankle Gout
Tuesday, 24 October 2023 00:00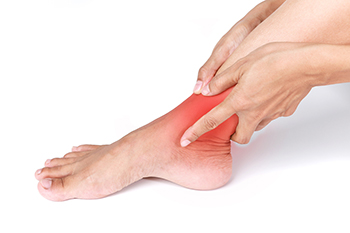 Gout is a painful form of inflammatory arthritis that can affect various joints in the body, usually the big toe. When it strikes the ankle, it's referred to as ankle gout. This condition can be identified by sudden and intense pain, swelling, and redness in the affected joint. The root cause of gout in the ankle is a buildup of uric acid. This waste product is produced during the breakdown of purines, which are found in certain foods, like red meat and seafood. Normally, your body transports uric acid to the kidneys for elimination in urine. But if not properly flushed out, excessive uric acid remains in the bloodstream, termed hyperuricemia. Eventually, uric acid crystals can accumulate in certain joints, including the ankle joint, and cause the classic symptoms of pain, swelling, and redness. Gout flares usually peak within 12 to 24 hours of onset and gradually improve over one to two weeks, with or without treatment. Some individuals may experience only one gout flare in their lifetime, while others suffer from recurring flares. In cases of recurring gout flares, symptoms can become more severe and prolonged, potentially leading to joint damage. If you suspect you have ankle gout, it is suggested that you make an appointment with a podiatrist for a proper diagnosis and more advanced treatment options.
Gout is a foot condition that requires certain treatment and care. If you are seeking treatment, contact Dr. Steven Schwartz from Pennsylvania. Our doctor will treat your foot and ankle needs.
What Is Gout?
Gout is a type of arthritis caused by a buildup of uric acid in the bloodstream. It often develops in the foot, especially the big toe area, although it can manifest in other parts of the body as well. Gout can make walking and standing very painful and is especially common in diabetics and the obese.
People typically get gout because of a poor diet. Genetic predisposition is also a factor. The children of parents who have had gout frequently have a chance of developing it themselves.
Gout can easily be identified by redness and inflammation of the big toe and the surrounding areas of the foot. Other symptoms include extreme fatigue, joint pain, and running high fevers. Sometimes corticosteroid drugs can be prescribed to treat gout, but the best way to combat this disease is to get more exercise and eat a better diet.
If you have any questions please feel free to contact our offices located in Chambersburg, and Mcconnellsburg, PA . We offer the newest diagnostic and treatment technologies for all your foot and ankle needs.
Read more about Gout